When the Words Burn
1988, 1992 & 1993, 1995 –
When The Words Burn: (prose) A Study of Modern Arabic Poetry, 1945 – 1987, Cormorant Books, Maxville, Canada, 238 pp. Second ed., 1992.
Short-listed for the League of Poets Award (1990) and the John Glassco Award (1990)
Published for distribution in the Middle East by American Univ. in Cairo Press, Cairo, Egypt (1993), and by Inforium Press, Ankara, Turkey (1995).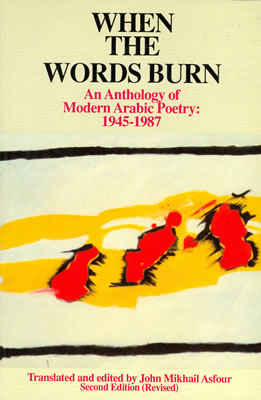 Book Review: When the Words Burn is one of the most significant contributions to studies on modern Arabic literature. – Matrix Read more reviews
Book Description: When The Words Burn: An Anthology of Modern Arabic Poetry, 1947-1987 first appeared in 1988, it was (and still is) the first major collection of its sort ever to appear in Canada. It represents a major event in the international world of translation and scholarship, since John Asfour has not only translated the work of thirty-five poets, but also has written a wonderfully engaging and accessible introduction to the social. political, and literary background of the modernist movement in Arabic poetry.
Asfour's introduction explores the classical traditions and the need for evolution, which led to free verse movements, the exploring of foreign mythologies in the Tammuzi poets, the influence of T.S. Eliot on Adonis and others, and, finally, poetry of the resistance movement.

Or BUY from Barnes & Noble | Indigo
Mr. Asfour provides an introduction to modern Arab poetry and its background, while the poems themselves introduce us to inner worlds of political frustration and personal agony and delight that tell us far more about the reality of the Islamic peoples than the utterances of fundamentalist mullahs.  – George Woodcock
John Mikhail Asfour's book is a valuable contribution toward a better understanding of a complex and turbulent world. – The Ottawa Citizen
When the Words Burn is one of the most significant contributions to studies on modern Arabic literature. – Matrix
Book Review of When The Words Burn, by AMIN MALAK