The Metamorphoses of Ishtar
2011 – The Metamorphoses of Ishtar: by Nadine Ltaif, Guernica Editions, Toronto and Montreal, Canada trans from the French, 45 pp. Translated by John Asfour.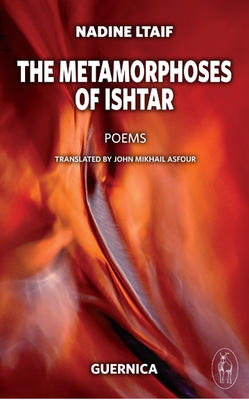 Book Description: "The imaginary world of Lebanese Canadian exiled poet Nadine Ltaif is rooted in the context of middle-eastern geography and mythology. Any attempt at understanding her poetic experience must be anchored in Mediterranean symbolism. The analysis of these Mediterranean symbols reveals a metaphysical process or a quest which begins with the exploration of the anguish of uprootedness and exile, reaches an emotional catharsis that desperately searches for a emotional refuge and finally leads to the emergence of a feeling of liberation and plentitude." – Antoine Sassine, Mount Royal University, Calgary
Nadine Ltaif is a poet and translator, living in Montreal. Her first book, Les Metamorphoses d'Ishtar, was published by Guernica in 1987. Entre les fleuves was translated by Christine Tipper and published by Guernica as Changing Shores.

Or BUY from Barnes & Noble | Indigo