V6A: Writing From Vancouver's Downtown Eastside
2012 – V6A: Writing from Vancouver's Downtown Eastside, (poetry and prose), Arsenal Pulp Press, Vancouver B.C. 150 pp. Finalist for the City of Vancouver Literary Award 2012. Edited by John Mikhail Asfour and Elee Kraljii Gardiner.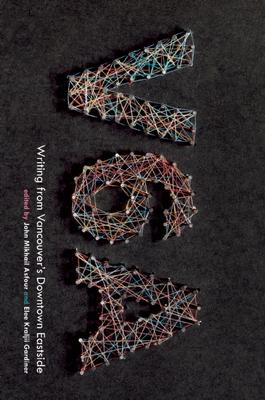 Book Review: "This work is real, heart wrenching, sublime and necessary. These are slices of lives and memories that come from a space that resonates with sounds of loss, vision and resistance. It is a collection that speaks from the margin to the centre. It is here and it shall remain a timely documentation of a mythical place, a threatened refuge in a blanket of creativity and strength. A significant contribution to this land's narrative and account." —Rawi Hage, author of DeNiro's Game Read more Reviews
Book Description: "V6A" is the postal prefix for what is often described as "the poorest neighbourhood in Canada"―Vancouver's Downtown Eastside (DTES). Statistics about the area depict conditions related to crime, drugs, sex work, and poverty that overshadow another reality based on self determination.
The anthology V6A refracts the experience of thirty-two writers, emerging and established, who have been a part of the DTES community in some way. Their prose, poetry, and essays reappropriate the coding of the area and recast the DTES as a site of creative energy and human dignity. Cathleen With (Having Faith in the Polar Girls' Prison) writes about the area's street kids. Michael Turner (Hard Core Logo) recalls years living in an apartment on Powell Street. Madeleine Thien (Certainty) examines the effect of the neighbourhood on her family's dynamic and its role in her development as a writer. Wayde Compton (After Canaan) writes about Hogan's Alley and the history of Vancouver's black community. Other pieces explore the sex trade and the Missing Women of the DTES, the culture of Chinatown and other ethnic communities, and the simple, human truths around poverty, kinship, forgiveness, and faith, and remind us that expression flourishes regardless of barriers.
Includes a preface by writer Gary Geddes. Partial proceeds from the sale of this book will fund Thursdays Writing Collective, a program for DTES writers directed by co-editor Elee Kraljii Gardiner.

Or BUY from Barnes & Noble | Indigo | ARSENAL PULP PRESS
How appropriate to locate the writing collected here as "code." This is useful not only to situate the importance of "home" as part of that nebulous dementia we carry with us all our lives, but also as a condition of the code-switching necessary to negotiate the imagination and its ambivalent syrens screaming along our street of dreams. The strength and beauty of this writing is its insistence on making that creative negotiation present. Literally singing it. Here! V6A. Write here!
—Fred Wah, Poet Laureate of Canada (2011-)
This work is real, heart wrenching, sublime and necessary. These are slices of lives and memories that come from a space that resonates with sounds of loss, vision and resistance. It is a collection that speaks from the margin to the centre. It is here and it shall remain a timely documentation of a mythical place, a threatened refuge in a blanket of creativity and strength. A significant contribution to this land's narrative and account.
—Rawi Hage, author of DeNiro's Game
V6A is an intimate glimpse into the lives of important writers: not those who dream of literary fame, but rather those whose need for personal expression is integral to their sense of self. This is a book that is rooted in one of the great democratic purposes of literature: to expand our understanding of the human experience.
—Brad Cran, co-author of Hope in Shadows: Stories and Photographs of Vancouver's Downtown Eastside and Poet Laureate of Vancouver (2009-11)
The book's strength comes from the indelible image the stories and poems leave when experienced as a whole; together, they present a neighbourhood that, despite its problems, is very much alive.
—Georgia Straight
This is not your standard heavy fare. The Downtown Eastside is full of tragic stories, but somehow V6A strikes the perfect balance of sadness, nostalgia, sincerity, optimism and even humour.
—Spacing Vancouver
Artistry flows from V6A: Writing from Vancouver's Downtown Eastside
By Jen Croll | April 12, 2012
V6A: Writing from Vancouver's Downtown Eastside has strange potency
By Jennifer Croll, April 18, 2012