One Fish From The Rooftop
1992 – One Fish From The Rooftop: (a collection of poetry), Cormorant Books, Maxville, Canada 84 pp. winner of the 1994 F.G. Bressani Literary Prize (Vancouver, B.C.) and the recipient of the Joseph S. Staufferd Award of the Canada Council for the Arts.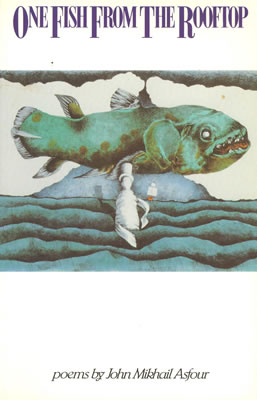 Book Description: The small village of Aitaneat in Lebanon grows for the reader through evocative detail and memory, counterpointed with St. Henri in Montreal and the more ambiguous locations of searching and loss. These poems are intensely lyrical and full of sentiment – the focus of memory- juxtaposing life in the new world of Montreal, with its Burger Bliss restaurants and St. Henri poor, with the rich and painful life of Aitaneat, ravaged by war but rich in history and family and local legend.

Or BUY from Barnes & Noble | Indigo