Nisan, A Book of Poetry
1976 – Nisan, A Book of Poetry: (a collection of poetry), Fiddlehead Books, Univ. of New Brunswick Press, Fredericton, Canada 64 pp.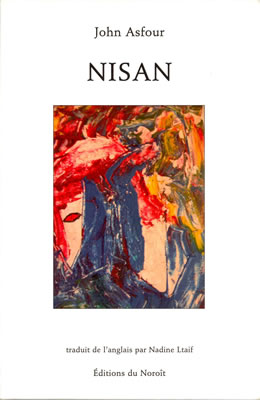 Book Description: Le titre « Nisan » vient de l'arabe pour désigner le mois d'avril. Le recueil réunit les premiers poèmes de John Asfour, poète canadien d'origine libanaise, qui a perdu la vue à l'âge de treize ans, lors de la première guerre civile du Liban en 1958. Poèmes inspirés de l'idéal de l'amour et de l'indignation face à la guerre, ils puisent aux sources antiques grecques et phéniciennes. Asfour ramène à sa mémoire le héros de son enfance, Jack, mort en 1973 dans un accident de voiture, et ses épreuves amoureuses.
About the Author: Avant son arrivée au Canada à l'âge de 23 ans, John Asfour avaient commencé à publier des poèmes et des articles dans les journaux et les périodiques de Beyrouth. Il a étudié la littérature anglaise à Montréal et a reçu un doctorat de l'université McGill. Il a enseigné la littérature anglaise durant douze ans au collégial et aux Universités McGill et Concordia. Il a publié quatre livres de poème en anglais : Nisan : A book of poetry (1976), Land of flowers and gun (1981) One fish from the Rooftop (1992) et Fields of my blood (1997). Sa thèse de doctorat a été publié chez Cormorant books en 1989 sous le titre An Anthology of modern arabic poetry. Nisan est son premier livre aux Éditions du Noroît.

Or BUY from Indigo